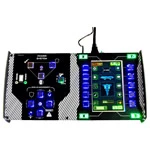 Joseph - USA
5" Screen
This panel is the perfect addition to my Star Citizen setup! The LEDs aren't blindingly bright, but add a bit of color to everything. The buttons work well, and the shipping was right on time. The creator was very responsive, and even reached out shortly after the purchase to make sure everything went better than expected! If you need help with getting it set up,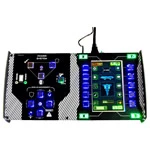 Ben - USA
5" Screen
Looks absolutely fantastic. High quality metal plate.
I can finally remember where my mappings are.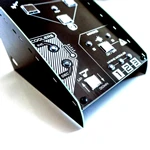 Samantha - USA
Double Panel
I've been searching for flight sim boxes for a while now and I found that it was very hard to find Boxes that did not consist of toggle switches. I primarily use my setup for Star Citizen and found that toggle switches are not always as compatible as push buttons. All the buttons on this box feel sturdy and very responsive. I also like the different colors with this style because a lot of others tend to stick to one color. The setup was very easy especially if your are no stranger to H.O.T.A.S programming. But even for a beginner all you do is select function and press the button on the box that you want bound. Very quick and easy. This unit has been a great addition to my setup and would definitely recommend to anyone looking to enhance their immersion and ease of gameplay. Shipping was very fast especially for it coming from overseas. Pilot Gaming was great at communicating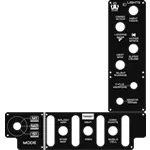 Shane - USA
Plate X55-X56 - Star Citizen
This comes exactly as described. There are two aluminum plates with Star Citizen switch names. The print on the plates is clear and easy to read. They labels make sense and already closely match the setup I have mapped on my X56. I had will have to make some minor changes but I can finally remove my sticky notes from my controller. Pilot gaming communicated well and put it in the mail quickly. It took 8 days to receive this in the US mailed from Europe. I am very happy with this and have already installed it on my controller.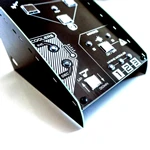 Chris - USA
Double Panel
Seller was very responsive to pre-purchase questions and shipped the product within 24 hours. Product works great in Star Citizen!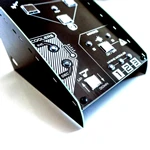 Myra - Australia
Double Panel
Service was amazing and everything arrived on time (Australia).
Pilot-Gaming was very helpful and answered all of the questions I had.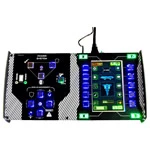 Michael - USA
5" Screen
Everything is good so far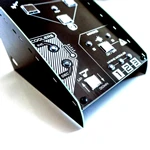 Nathan Wallis - New-Zeland
Double Panel
Great quality and quick delivery. Couldnt be happier. Photos are accurate. Would definitely purchase from here again. A++